The club sells various items for fundraising – this helps keep everyone's fees down! All these items are available for purchase at either of our club days – please use the 'contact us' form if you wish to purchase them so we can ensure that stocks are brought to club.
T-Shirts
New 50th Anniversary design available now – we are selling these at $40 or $35 to those playing Interclub! See a committee member at club or Contact Us to obtain your shirt now.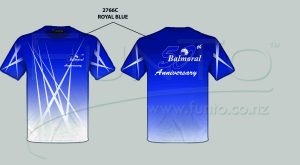 Used Shuttles – $5 per tube
On our social play days we are often left with a quantity of shuttles that are not quite good enough to be used for a game, but have plenty of life left in them. This makes them perfectly suited to practice or training. We are making a quantity available to our members for $5 per tube – but be quick and Contact Us now as stocks are limited!